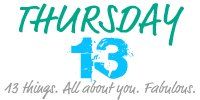 13 things that I love. In no real order.
1.
Moose, sending me a random text in the middle of the night, so that I can wake up
to
him, if not
with
him.
2.
Tigs, scratching at the door because he knows Mum and I are in here and he just plain
fancies
some company.
3.
How creative and inspiring the My Little Pony community is. How it's been a part of my life
all
my life, and how happy I am that a silly cartoon and toy brand flows through my life as readily and necessarily as blood. How downright
proud
I am to be one of
those
people, those crazy dumb immature stupid people who collects toys well into their adulthood. It's not about 'My Little Pony', it's about being true to the things that make you happy,
regardless.

4.
Long, hot bubble baths, accompanied by a glass of Something, my tablet, and a good book.
5.
This video
on Disneyland Paris. I'm going there this July for my birthday and I am so stupidly excited.
6.
Brothers'
Toffee Apple Cider
. Moose introduced me to it earlier this year and it is
divine.
(holy... I just went to their website and they're releasing
'Rhubarb & Custard
' cider. Be still my beating tastebuds.)
7.
Medium
. It's a show Mum and I have been devouring every night for the past month or so. We watched it years ago and had the DVDs, so decided to give it a whirl. Sure, it's your typical 'detective show with a
twist!
', but it's just so much fun to watch.
8.
Shopping. Sorry. I know. It's such an awful 'love'. I just really, really do.
9.
Being IDed for drinks in bars and pubs. It'll never get old.
10.
People who come back specifically to say they really enjoyed the food they ordered at my dad's cafe. It's such a tiny gesture, but when it happens it means so much.
11.
Eating outside in the garden when the weather's warm enough to do so, surrounded by solar fairy lights and digital radio.
12.
Netflix. Seriously. Worth every penny.
13.
Instagram finally coming to Android
! (and how genuinely annoyed some iPhone users are about it. haha.) I don't know how often I'll use it, but you can find my grid
here
.
Oh, also, it's Luke's birthday today, so...

Happy Birthday Luke!

Yay!
Current Mood:

good